I've been watching too much kids TV. No excuses—this is not good! But somehow I feel so excited when a hero triumphs. I love the feeling I get when a bad guy is finally defeated, and when the world is once again safe. Since most superhero shows are weird and have questionable things, I have to be very careful what I look at. PBS is pretty good about keeping it clean, at least right now. I tend to go after PBS' "Word Girl" episodes, because I like superheroes. Granted, even though the hero in question, Word Girl, is a little annoying, she is a likeable hero.
But it seems that the Villains in the cartoon series have more to say than the heroine. (Quite a feat, especially when the hero has word powers) Sure, the villains are exaggerated and ridiculous, not to mention lawbreakers, but they are also extremely insightful. Not only are they cool enough for my brother, who really loves to talk about "bad guys", but they each have something to say. One teaches about synonyms, and another antonyms. One in particular always speaks passively, for with PBS shows, even superheroes must teach something. But one villain, Miss Power, teaches about bullying.
This might be rather strange for a show based on explaining proper grammar, if it wasn't for the public campaign against bullying that is being led by celebrities and the media. I watched the four-episode series, and well…I came out almost frozen. Here's what happened.
Imagine that we have a superhero who spends all her time fighting crime, yet never gets the appreciation or respect she wants. She flies around saving people, often giving up precious family time to do so, and the villains always get out of jail after about a week. She's exhausted! Now imagine that someone shows up claiming to have the answer to her problem, and that that someone proceeds to follow through with her promises. Her tactics are intimidation: if the villain is too scared to leave the jail, the hero won't have to fight him as much.
It soon gets out of hand. We now have a power-crazy, sarcastically cruel "hero" running around, with the hero of the show following her every suggestion! But eventually Word Girl's conscience gets the best of her, and she refuses to go along with Miss Power's sadistic "crime-fighting". Angry at being crossed, Miss Power reveals her true nature, and Word Girl has to try and fight something that is more wicked than she ever could have dreamed. Humiliated, Word Girl flees the battle, and Miss Power begins her rule of the city.
In many ways, Miss Power represents a modern celebrity. She looked amazing and had the force to back up her looks. She was popular and helpful, and a good role-model. She was a hero. But underneath her fair features, Miss Power was hiding a disgusting, wicked heart. She wasn't a good person at all, and definitely not a good leader! Instead of helping people, she started locking them in jail simply for disagreeing with her rule of terror.
It turned out that Miss Power's beauty was only skin-deep. She wanted to be in complete control of everything, and she would stop at nothing to accomplish that goal. All it took was a little persuasion, and she easily ditched her disguise for her true, violent identity. Her "power" came from having "power" over the other characters. If they were not afraid of her, she would lose her strength. So to keep that from happening, she became crueler and crueler, hoping to keep her advantage.
But even though it's only a silly show, this story has an interesting twist. Miss Power is really evil, so wicked that I regretted watching it at night. Her cold cruelty—though granted, she never did anything harmful to her enemies, but instead relied on her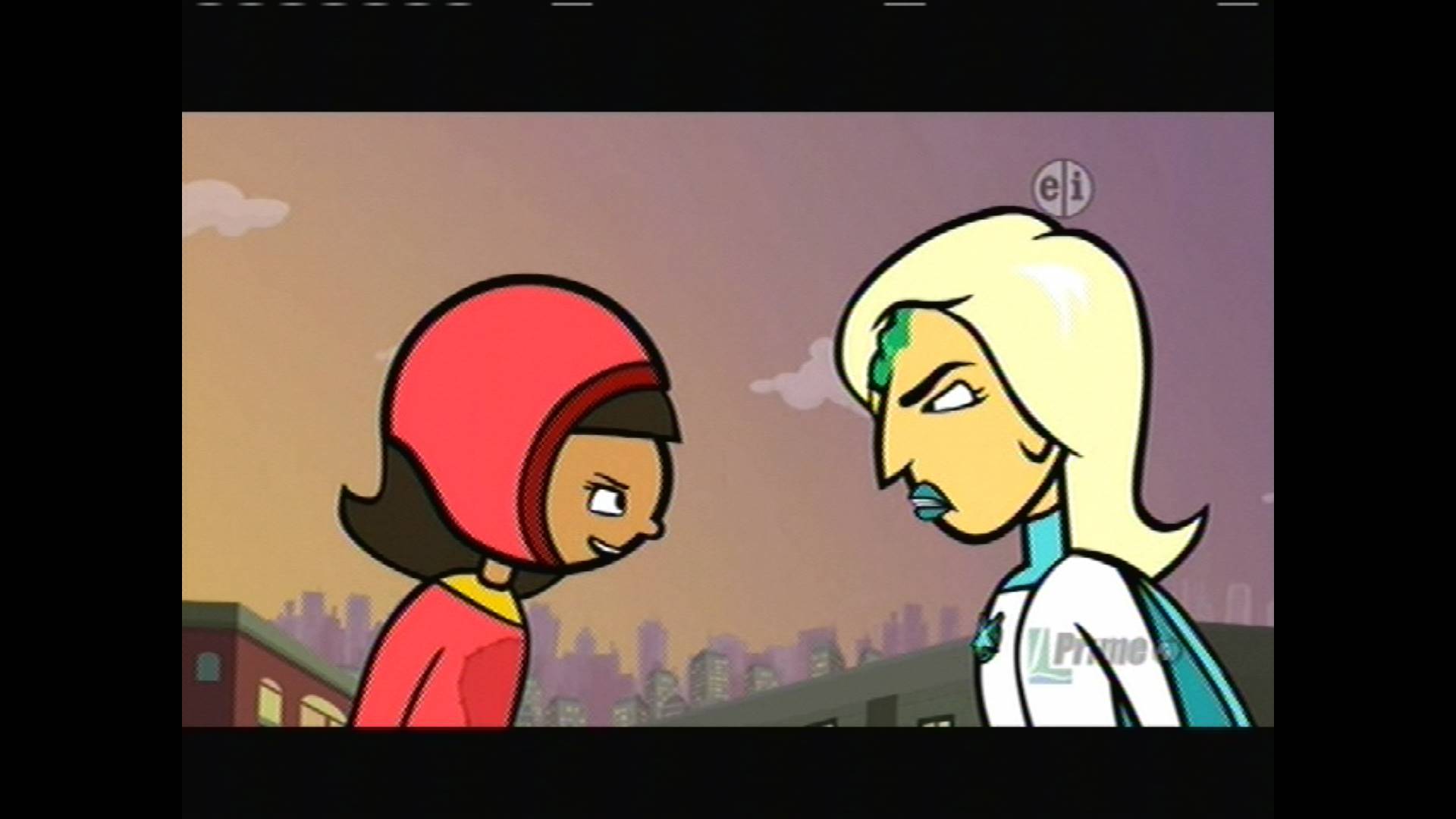 tongue and her strength—her cruelty sobered me. This is the natural result of the hunger for power. Miss Power could be me. It could be any of us. It could be any hero that we look up to. How fitting it is that one of our sayings is "Power Corrupts"! How sad that we often forget why the phrase was coined.
Strangely enough, this little cartoon taught me a lesson almost more than it taught my siblings. Miss Power used intimidation and power to subdue people to her will. If she couldn't break her adversaries with her bullying, she would imprison them. This is how most dictators work. And strangely enough, they also seem good in the beginning, and only reveal their true colors after they have gained control.
I never thought of someone who was "bad" would look so….well, good. I wasn't sure how to process that. If someone can trick people in tv shows, surely I would would be just as vulnerable. Worse still, if even the "best" people fall when given too much power, what about me? Would I pass the test, if I was ever given it? There didn't seem to be anything I could do.
Or was there?
There are many things I have that the cartoon people don't. I might not be extremely wise, or even close. But I do have some things that I can do to guard myself from being tricked, especially when it comes to teachings.
First, I can compare what someone says to the Scriptures. If I heard someone saying something that sounded wonderful, but then thought it through and wasn't sure if I agreed with it, I could always go back to the truth and contrast it with what the person said. If the two don't line up, I have decide who to trust: God's perfect word, or Man's interpretation. I don't mean to be snobbish, but I think I will stick to God's word. It has never yet been proven wrong, but those who contradict it are proven wrong again and again. The odds are good that God will stay being God, and therefore I will stick to his side whenever I can.
Another thing I can do is analyze a person's actions. Does someone seem a little too attached to the limelight? Does she climb
ladders and take shortcuts to try and get a higher place? Does she go out of her way to get people to notice her? Watch out! People who live off of others' opinions of them are usually bad candidates. At the very least, they can be easily swayed, and will not be firm in their convictions. At the worst, they can be serpents in disguise. I have seen far too many "heroes" crash and burn. No one is perfect, and anyone who tries to be is setting himself up for failure.
A last thing I can do is pray. It isn't easy to process why power-hungry people seem to fly to the top of the government. It isn't easy to fight them. But we are not alone in our struggles. When we pray to our father, we are no longer isolated. When we pray together, as a church family, we are united in Christ! We are an army, and though we don't use our weapons to attack people, we do use our numbers and our voice to make a difference. We have that freedom now, and we need to be careful to not give it away.
In the show, things
were looking blue. Word Girl was too weak to fight Miss Power, so she wisely decided to bow out and do some studying on how to defeat her. (What's this? Studying her orders? What about us? Maybe little superheroes have something to tell us after all.) While she was doing that, all of her "enemies" were imprisoned, and wondering what had gone wrong. They were encouraged to team up and work together with their former foe, to put aside their differences and stop a common enemy. Using their various strengths and weaknesses, the 'villains' broke out of the prison (freeing quite a few civilians as well) and went off to do war with Miss Power. Encouraged by their collective abilities, the villains (even the kids) decided not to be afraid of this space invader, and instead helped Word Girl defeat her.
Now, granted, we can't be teaming up with thieves, disgruntled employees, vandal-robot-wielding-boy-geniuses, mad scientists, and greedy little girls that tend to turn into monsters when refused. That's just crazy. And no, we don't usually celebrate our victories with pizza and sandwiches, some spare salami, and quite a bit of cheese. That's just part of the cartoon. But what we can do is work together with some of the people that WE think are villains, namely, people who believe slightly different things than we do. It isn't easy to put aside our differences. It never has been. But we're at a time of crisis. It's time to do something different.
While we aren't superheroes, we are charged with the keeping of our world. We have enemies that we must fight. Sometimes, we must tackle things that are hard for us, and face our fears. Sometimes we will be tricked and will fall. But a true hero will push past the difficulties and do what's right. Thankfully, we don't have to be alone. We have the greatest ally in the world on our side, and he's not sitting around on the sidelines. We serve a God of action, so we need to act!
Maybe this silly cartoon, meant to teach the dangers of bullying, can reach further than the writers intended. Maybe I can remember the dangers of "Miss Power" and become wise. Or maybe, if I happen to be a history lover, I might go back and survey the many dictators who came into power, crushed their opponents, and eventually fell to the ground. Maybe I can ditch the imaginary world and cling to the real one.
Real world Truth resides even in the goofiest cartoons. Listen and be Wise! Test teachings against the scriptures. Be sure of what you believe. Determine your friends from your enemies. Don't be deceived by beautiful wolves in sheep's clothing. Oh, and be careful what you watch, especially at night.
Ugh. Perhaps the wicked eyes of Miss Power will keep me from falling for other good-looking celebrities. With prayer, and a good amount of God's grace, I hope to be wise from this point on.